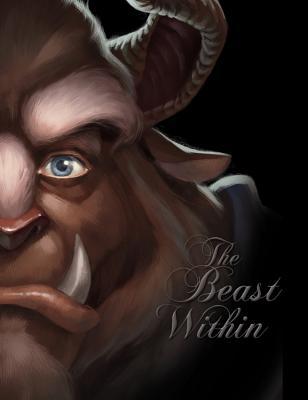 Title: The Beast Within: A Tale of Beauty's Prince 
Author: Serena Valentino
Series: Villains, 2/4
Genre: Disney, Fairytale, Fantasy, Middle Grade, Young Adult
Publisher: Disney Press
Release Date: July 22nd, 2014

Note: I admit, my absolute favorite thing about this series is the beautiful cover art. The hardcover sleeve shows the Beast, while the book cover itself shows him as the selfish prince. I'm in love with the concept, and these books are worth owning on your shelf simply because they are so nice to look at. All the better if you are a Disney fanatic like me. 
Additional note: This post reviews the second book of the Villains series. You may like to read the first book in the series, Fairest of All, before reading this book. However, these books can be read as stand-alone stories. 
With all the Beauty and the Beast retellings out there (and there have been a lot), I can confidently state that I haven't come across one quite like this. The reason being? This one is all about the Beast. This Beauty and the Beast retelling invites us to take a deeper look into the Tale of Beauty's Prince. What was Prince Adam, and the servants of his household, really like before the curse? Brace yourself for a twist on this beloved fairytale that is nothing like the classic. As long as you can accept that – and the fact that Adam and Gaston are friends in this version – this book might win you over.
This was a light, easy read. I would recommend this fairytale retelling to my fellow fans of all things Disney (it's the perfect book to pack in your suitcase for a Disney trip!), and to readers who are looking for something quick and fun… with a touch of magic.
If you enjoyed this review, please consider following Reads & Roses. It would mean the world to have you on my team!
Reads and Roses is a participant in the Amazon Services LLC Associates Program, an affiliate advertising program designed to provide a means for sites to earn advertising fees by advertising and linking to amazon.com.